Dental Care Plans
We are delighted to offer Dental Care Plans - our own membership scheme, which enables us to provide you
the treatment and support necessary to control dental disease and restore your mouth to full fitness.
Our modern health-promoting approach with continuing care means:
Fewer fillings.
Less dental decay.
Less likelihood of toothache.
More attractive teeth.
More choice.
Reduced costs.
Helping to keep your own teeth for life.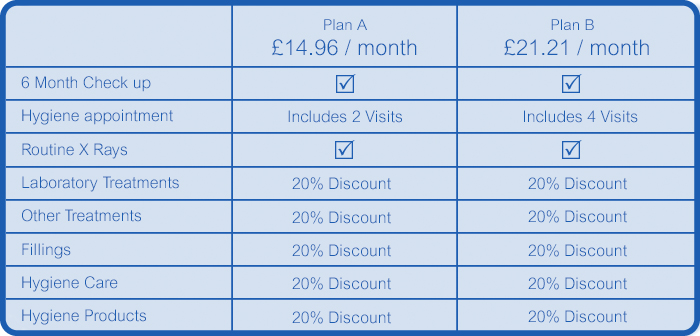 Plan A / Plan B Discounts
20% discount on any laboratory-based treatments required, i.e. crowns, bridges and dentures.
20% discount on any fillings.
20% discount on many other treatments (extractions, etc).
20% discount on additional hygiene care.
20% discount on oral hygiene products purchased at the practice.

Insurance
Worldwide Dental Trauma Insurance to protect against the cost of large unforeseen accidental damage.
Emergency Callout Insurance should you need a dentist in an emergency, anywhere in the world.
Redundancy protection for your monthly payments for up to 12 months.

And there's more...
Treatment planning to promote good oral health for life.
Free antibiotics dispensed at the practice.
Production of study models when required.
All subsequent remedial work within 12 months of recommended restorative work.
Assessment of emergencies and dental pain with any temporary treatment required, carried out at the practice.
during normal surgery hours.
Greater choice of treatment and materials.
More time to help prevent decay and gum disease.
A fair and equitable system where everybody pays the same.
Substantial discounts on additional treatments and sundries.
Worldwide dental trauma and emergency callout insurance.
Redundancy protection for your monthly plan payments for up to 12 months.


Registering
Please call in at the practice where an agreement will be completed. This will require your signature and bank
account details for the direct debit instruction. Direct debits are collected from your account on the 8th of every
month. Benefit from cover will commence from the 1st of the month. If you would prefer to pay on a fee-per-item
basis, we require that you use our Registration and Insurance Scheme. Registration with the practice costs
£36.00 per year. Call the main surgery telephone number 01909 472477 for further details.